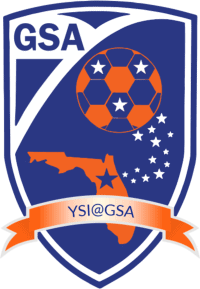 The YSI@GSA Recreational Program
YSI@GSA is a COED recreational soccer program for players ages 4 through 16.
Run by program founder Sandi Rivera since 1976, YSI@GSA the largest and fastest growing youth co-ed recreational soccer program in the area!
Under the umbrella of Gainesville Soccer Alliance, the YSI@GSA program strives to have a positive impact on all of it's players, in soccer and beyond!
Program Mission Statement
As the longest-running, most popular recreational soccer program in north central Florida, YSI@GSA creates a structure in which kids of any soccer experience can participate on a team to learn skills, sportsmanship, teamwork, personal development, play in games and most of all…have FUN! Our hope for each player is they not only grow as a person, but also develop a passion for the game that provides him or her with a lifetime of playing, watching and loving soccer.
Spring 2022 Registration
Registration for the Spring 2022 season is now closed. Fall 2022 registration will open August 1st. A link will be provided below.
Players
Boys and Girls. 4 through 16 years old.
Divisions are based on birth year:
2016-2017: U6 Teams
2014-2015: U8 Teams
2012-2013: U10 Teams
2009-2011: U13 Teams
2005-2008: U17 Teams
Season
There are two separate Academy seasons each year, one in the fall and one in the spring. Each season is nine weeks in length. The fall season starts in early September, while the spring season begins mid-February. 
Season Overview
We use parent/volunteer coaches in our YSI@GSA program. These coaches will set their own practice times at specified locations around Gainesville. All games will be held at GSA's Jonesville Soccer Park on weekends (mostly Saturdays).
Occasionally, out-of-town teams who are interested in participating are added to our game schedules.
Practice/Game Days
The Spring season:
The week of  TBA through the week of TBA.
Practice Schedule Spring 2022:
Practice days and times will vary from team to team.
Game Days Spring 2022:
Game times will vary from team to team. Game days will be as follows:
April 9, 16, 23, 24, 30
May 7, 14
Tournament May 21-22
Where
Gainesville Soccer Alliance
Jonesville Soccer Complex
14100 NW 32nd Avenue
Gainesville, FL 32606
Tryouts
Playing in YSI@GSA does not require a tryout.
Coaches
Our teams are run by volunteer coaches, including parent coaches. Anyone interested in coaching a team should contact Sandi at: Sandi Rivera
Cost
 $130/season
This price includes all training, facility, association, and insurance fees, as well as a game jersey (parents furnish black shorts and socks for games).
There are no additional fees.
Registration is now open for the 2022 GSA Competitive Team Tryouts!  Tryouts for GSA's U9-U19 male and female competitive teams will be held May 2-6 at Jonesville Soccer Park. Tryouts for this season are completely free of charge. For more information on tryouts and...
read more
Spring 2022 Teams & Schedules
U6 Teams
Spring 2022 teams will be posted soon!
U8 Teams
Spring 2022 teams will be posted soon!
U10 Teams
Spring 2022 teams will be posted soon!
U13 Teams
Spring 2022 teams will be posted soon!
U17 Teams
Spring 2022 teams will be posted soon!
YSI@GSA PROGRAM PARENT TESTIMONIALS
Danielle Vargas
Sandi is wonderful! My boys had a fantastic season. We will definitely be back next season to play for theTigers!
Tony Baker
My whole family really enjoyed our experience with YSI@GSA this season! We loved Coach Gary, Sandi and everyone with the program. Playing at Jonesville Park was amazing too!
Jessica Saywer
All of my kids have played with Sandi and YSI@GSA and have loved it! She has become part of our family. I highly recommend this league to anyone who wants to play soccer!