Competitive Program
Our GSA Competitive Program has been the most successful and distinguished in the area for over 25 years.
Serving the strongest boy and girl players ages 9 through 18 in the area, these year-long teams are challenged by an elite level curriculum of technical instruction and tactical awareness designed for both individual growth and team success.

Academy Recreational Program
The Academy Program is a recreational league for boys and girls 4 through 12 who are looking for a more challenging experience designed for growth and development.
The Academy uses experienced, paid coaches, evenly divided teams and a rich developmental curriculum created by senior staff to teach a strong technical foundation for young, promising soccer players.

YSI@GSA Recreational Program
The YSI@GSA Program is an entry-level recreational league for boys and girls ages 4 through 18.
Founded by Ray and Sandi Rivera and proudly serving the Gainesville area since 1974, thousands upon thousands of young players have had FUN and learned about the beautiful game of soccer with the most popular volunteer-coached recreational soccer league around!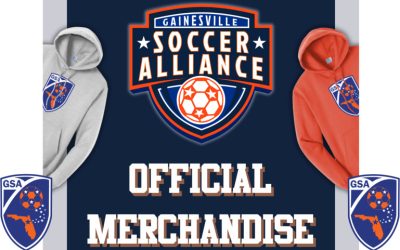 We have partnered with Campus Customs to bring our families a NEW merch website just in time for...
read more